Near Upper San Leandro Reservoir
My first morning back in my hometown brought familiar smells: buttered toast in my mother's kitchen, coffee and the unique aroma of the soil in the yard, moistened by the morning dew. I felt content being surrounded by family. I also felt very aware that half of my life has been spent elsewhere, away from this place that still feels like home.
Home has now changed for me in many ways. My father has passed on, my grandmother is 96, and other people now live in most of the houses where I spent my childhood. Driving through Lafayette reminded me of the years when I used to speed down the sidewalks on a skateboard or a bike. Some businesses, such as the pizza parlor and the baseball card shop, have disappeared. Other new buildings have gone up.
Yet the beauty of early spring in Northern California seemed to have changed little. Sprouting grass turned the hills a brilliant green. Sun shone through blossoms on fruit trees.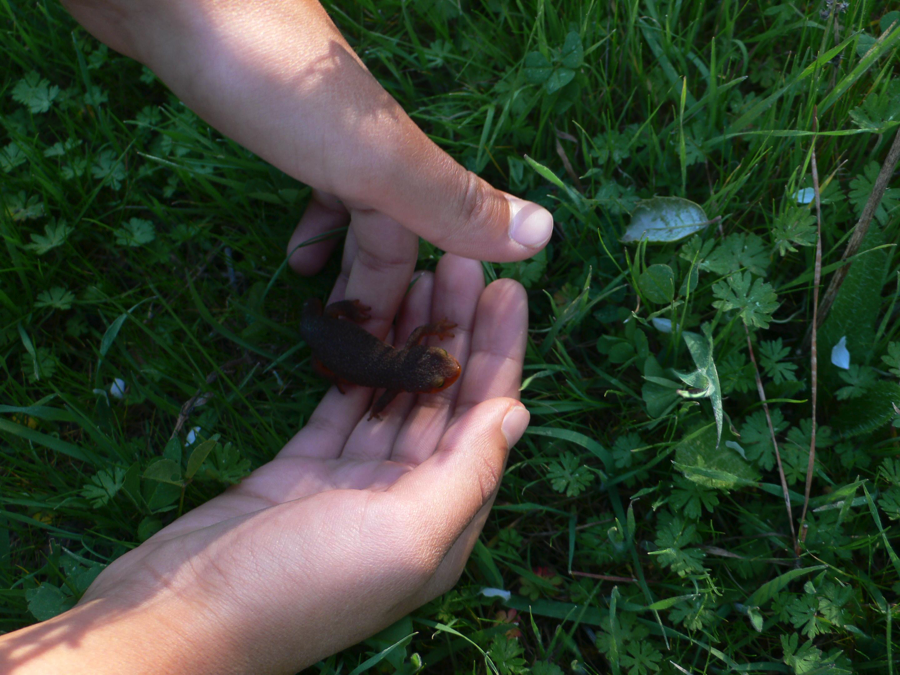 California newt
We hiked near Moraga toward Upper San Leandro Reservoir, my son and daughter explored a trail flanked by pine trees. Along the way my 3-year-old daughter stopped to examine pebbles.
After we crossed a bridge over a creek, the trail broadened into a gravel road. I was several paces ahead of the group when I spotted something small and brown moving on the gravel – a California newt. I smiled and called out excitedly for the kids to come see it.
When I was a boy, my father had led me on hikes into muddy creeks where we found newts, and I had enjoyed picking them up and admiring them. I was delighted by the soft orange skin on their underbellies and the rougher brown skin on their backs. They seemed fragile yet resilient.
I marveled at the feeling of this newt's tiny feet and moist tail as it crawled on my hands. My son and daughter pressed in close to watch. I let it walk from my hands to my son's hands, and he then knelt down to leave it on the edge of the gravel road. I snapped a photo. Watching the newt disappear into the grass, I felt very much at home.